The Toyota Avalon is one of the best vehicles of its kind on the market and every year the updated models are upgraded to become even better. The 2019
Toyota Avalon is no exception in this regard.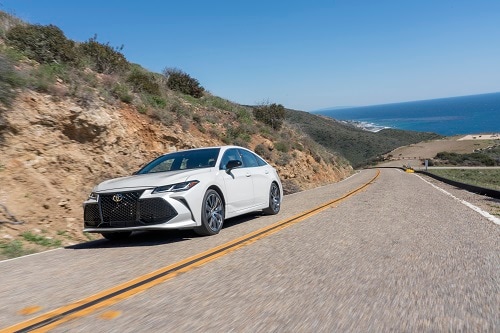 The 2019 Avalon was unveiled earlier this year, and it is not an overstatement to say that the upgrades it offers are absolutely terrific.
When shopping for a new car somewhere like Royal Moore Toyota, it is helpful to remember all of the key reasons why the
2019 Avalon
is the best possible car purchase to suit your vehicle needs.
Safety
The 2019 Avalon ranks at the absolute
top of its class in the safety category
, passing all crash tests with flying colors and scoring at the top in nearly every single individual test (with the lone exception of an "acceptable" grade in the IIHS' new passenger-side small overlap crash test, though it should be noted that is still a passing grade). Furthermore, the 2019 Avalon was also rated at the very top in the important category of crash-prevention technology.
Brakes are also as strong safety feature for the Avalon as the 2019 model is equipped with a wide variety of systems both active and passive. Included in the braking options is automatic braking, which performed phenomenally well in preventing crashes at speeds of both 12 mph sand 25 mph during the testing phase.
The Avalon also boasts lane departure mitigation, rear cross-traffic alert, and blind-spot monitoring with optional rear braking. Full-speed cruise control is also a part of the package, but drivers should be aware that it has a tendency to stop too abruptly, so it may be better to use on a long road trip than a short local drive.
Paying to maintain the car and keep it safe for multiple years will never be a problem either as your purchase includes two years or 25,000 miles of complimentary scheduled maintenance services.
Special Features
When you walk into a dealership like Royal Moore Toyota near Beaverton looking for the best deal on the most appropriate car for you, one thing you should keep in mind with the Avalon is its long list of features.
Within each 2019 Avalon, there are strong LED headlights, a nine-inch touchscreen at the top of the dashboard, and five USB ports so you can charge multiple devices on the road. This is in addition to a push-button start for hands-free keyless access, as well as Entune 3.0, an optional JBL audio system with 14 speakers and 1200 watts of power, and connectivity for Apple Play, Amazon's Alexa, and smart watches. Plus, for a few extra dollars, you can add a surround-view camera system with a head-up display and 10-inch viewing projection, and turn signals that fire sequentially in either aluminum trim or real wood.
Power
Gas models have a 3.5-liter six-cylinder engine joined to an automatic transmission with eight speeds. It contains 301 horsepower and 267 pound-feet of torque, which makes it a very powerful vehicle to drive. This model is intensely aggressive off the line and has the sheer strength to merge into highway traffic, even when it's extremely crowded. The transmission is very smooth and when the car is being driven at cruising speed, it is not noisy; it's actually quite a tranquil vehicle to drive.
The Avalon hybrid derives its power from a 2.5-liter four-cylinder engine joined with two electric motors for 215 net system horsepower. This is another in a long line of outstanding Toyota hybrids, and the ride is even smoother than the gas edition of the Avalon due to the continuously variable automatic transmission the hybrid contains.
Generally, hybrids like these are extremely loud, but this one is actually fairly tame and quiet, although the acceleration is not quite as strong as the gas model.
Strong Fuel Economy
The gas edition is able to produce an EPA-estimated number of 22 miles per gallon in the city, 32 on the highway, and 26 combined in the base XLE trim. This is an extremely efficient fuel economy for a sedan, and the hybrid model is even more impressive in this regard.
The Avalon hybrid is able to produce an EPA-estimated number of 43 miles per gallon in the city, 44 on the highway, and 44 combined in the XLE trim. The XSE and Limited trims get 43 miles per gallon under all circumstances, which is incredibly efficient. So the gas model has a tremendously strong fuel economy for a sedan, but the hybrid's fuel economy is even stronger, offering an opportunity for sedan purchasers to really take advantage of terrific savings when it comes to fuel costs.
Comfort
All of the best safety, fuel, and technological features are wonderful to have in a sedan, but if the inside of the car is not a comfortable place to sit and be a driver or passenger, then ultimately it is not a car you are going to want to purchase.
However, there are no comfort worries whatsoever with the 2019 Avalon, as comfort is one of its major focuses.
The car contains plenty of space, with enough room for five, and a backseat area wide enough to comfortably carry three adult-sized people on a long drive.
The backseat area of the Avalon is roomy and comfortable, but the most comfortable seats are unquestionably at the front of the car for the driver and front passenger. The seats are designed to keep those up front firmly in place on the corners, but without the uncomfortable hassle of it potentially becoming too tight for larger drivers or passengers.
The front seats are ideal for long drives because they are spacious, safe, and very comfortable, so no need to worry about getting restless or having a rough time being able to make it through a road trip.
Overall, the 2019 Avalon is a car worth of a test drive, but you'll likely want to take it home too.