When you're in the market for a new SUV, you might find yourself doing a lot of comparison shopping. There are certainly many options when it comes to subcompact SUVs, and two of the most popular are the Nissan Juke and the Toyota RAV4. We'll take a look at both cars and help you decide which is the best choice for you and your family.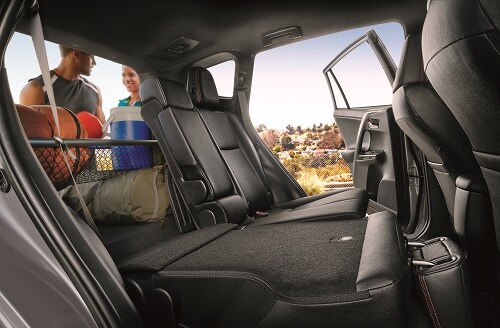 The MSRP for the RAV4 starts at $24,660 and the Juke is around $20,250. When comparison shopping for cars, there are a number of things you'll have to consider before making a decision, with the price being only one factor. We will detail a few of them here:
Mileage Per Gallon
Needless to say, one of the first considerations buyers make when looking at cars to purchase is the fuel economy. Rarely are SUVs known for their efficient fuel economy, although some are certainly better than others. The Juke takes the edge when it comes to mileage per gallon, getting about 32 mpg on the highway versus the RAV4 at 30 mpg.
However, it should be noted that the Juke is a significantly smaller vehicle than the RAV4 and that for its size, the Juke's fuel economy is actually below average, while the RAV4 is average or slightly above.
Size
Especially when it comes to an SUV, size certainly does make a difference. Larger vehicles can provide more comfort and carry more passengers; you can actually save on fuel costs in this way because you can transport more people in fewer vehicles.
For many years, one of the chief criticisms car buyers made of the Nissan Juke was its relatively small size. As far as SUVs go, the Juke would always veer toward the smaller end of the scale. By 2014, however, this problem had largely been dealt with, with the boot having been increased to 354 liters with the seats up.
Despite these improvements, the Juke is still on the small side for SUVs. The RAV4 is certainly a much larger vehicle, boasting nearly double the amount of storage space than the Juke.
Interior Layout
When comparison shopping for cars, the interior is naturally another factor you'll need to consider. As mentioned, the RAV4 has the superior size and you'll notice this when sitting at the driver's seat.
The cabin of the RAV4 is pleasantly roomy, giving it a distinct advantage over the Juke and other similar SUVs. We'd also give the advantage to the RAV4 when it comes to the other interior features; the Juke's interior tends to feel a tad artificial, while the Toyota RAV4 makes use of higher quality materials such as leather grained plastics.
Both cars feature adjustable seats to ensure a cozy drive. In the Toyota RAV4, even the rear seats are adjustable to allow passengers to make sure they're as comfortable as possible. The Toyota also has a few other luxurious options such as heated front seats and even a heated steering wheel.
Infotainment and Technology
When looking at the Juke vs RAV4, the latest models both come replete with an array of modern features. Each car has an infotainment screen that can provide you with GPS directions, weather, radio, and other necessities. With both vehicles, you'll be able to connect to Sirius Satellite Radio and even integrate it into your navigation.
The latest in technology will also allow you to connect your phone to the infotainment system in each car and make use of hands (and eyes) free technology. Simply state your voice command and never worry about taking your attention off the road. The RAV4 also allows you to connect to your home itself; you can control your garage door, front gate, and home security system, all from the comfort of your car.
Safety Features
Naturally, nothing else about a vehicle matters if it isn't safe, and both the Nissan Juke and the Toyota RAV4 make use of the latest in modern technology to ensure a safe ride. But, once again, it seems that the RAV4 takes the edge in a lot of safety-related categories. It features no less than eight airbags. There are the driver and front passenger seat-mounted airbags, as well as front and second-row roll-sensing side curtain airbags. There is even a driver knee airbag, ensuring that you have maximum protection in the event of an impact.
The Nissan Juke features a reversing camera, to ensure you can back up with ease and safety. It also features All Wheel Drive to assist with traction in adverse weather conditions. Similarly, the RAV4 has a Blind Spot Monitor as an option, which is a warning light that will activate if there is a nearby car in your blind spot. It also features traction control for wet or icy roads, as well as brake assist and Smart Stop Technology, which will automatically reduce power in the event of sudden braking.
Optional Features
One of the biggest issues with the Nissan Juke is the lack of optional features. As the Juke was discontinued after 2017, its availability is limited and there is no 2018 model. The 2019 model will presumably include more optional features, but until it's available, you will have to make do with a factory standard model.
The RAV4, on the other hand, still has a great number of features you can opt for. Electrochromic rearview mirrors, remote engine starting, and an additional rear seat are among the possibilities you can have added to your vehicle.
Choosing A Vehicle
So, when the time comes to make your decision, what should you choose?
When we compared Juke vs. RAV4, we gave the edge to the RAV4 in nearly every category except price. Of course, you may well decide that the extra cost is certainly worth it if you want to go for a higher-quality vehicle. However, before you make any decisions in either direction, we recommend you take a trip to your local dealer and test drive the vehicles you're considering. Go to
Royal Moore Toyota
and tell them you are interested in trying out the Toyota RAV4. Get a feel for the vehicles that interest you, and ask any questions you may have before making a final decision.