While full size sedans have been getting less popular over the years, the Toyota Avalon creates a benchmark for it's kind. The new models blend spaciousness with refinement, going above and beyond its rivals.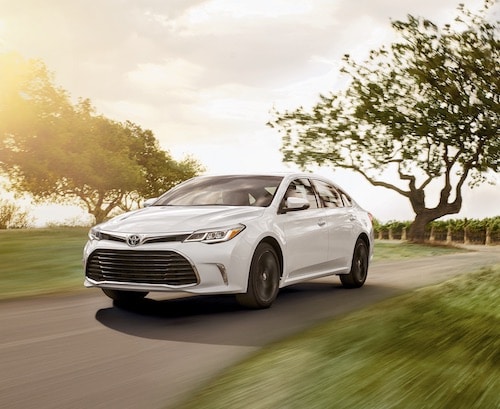 With an upscale design, roomy interior cabin, solid performance, newly standard advanced technology and safety features, and consistent reliability, Toyota Avalon has upped its game to give us the reasons why it is one of the best choices for a large sedan.
This vehicle may not be the first one on your radar when you step into a Toyota dealership near Beaverton, but it should be. New or used, the Toyota Avalon is
worth looking into
as it for its upscale characteristics, interior breadth and power performance all within the fuel efficiency of a small car.
Exterior Design
Toyota spent time designing an exterior that was unique enough to stand out from the background when they created the Avalon. The shape appears muscular with an exhilarating feel. It's effortlessly sophisticated while taking control and turning heads on the roadway.
They concentrated on the aerodynamic lines that are both stylish and efficient. The slack-jawed expressive grille is an Avalon personality that you find in the newer models. This large front-end grille is to help prioritize efficiency and cooling for the optimal ride.
The sharper edges updated from the previous models create a fresh, upscale take on the Toyota Avalon. The LED headlights and tail lights, 18-inch wheels and dual-chrome tipped exhaust system lets its outer match the inner beauty.
Interior Attributes
The interior cabin of the Toyota Avalon is graciously roomy and relaxing with a luxurious appearance. In this sedan, feel free to stretch out your legs in both the front and back seats. In fact, the Avalon is known to have one of the largest back seats out of its competitors.
The standard five-seater also comes with leather upholstery with available heated outboard seats.
The high-quality interior continues onto the nicely placed dashboard. This is perfect for those who like to look at a nice texture surrounding the infotainment system.
The cargo trunk space is about sixteen feet, the average size for large sedans. It is a power trunk that is wide and low, which definitely helps with loading things in and out.
Each of these details contributes to a comfortable ride every time, whether your behind the wheel or resting in the back.
Solid Performance
Whether you're driving through a bumpy back road or cruising smoothly on a highway, the Toyota Avalon plays in perfect harmony between confident handling and steady suspension. The full-size sedan delivers a compelling performance that seamlessly goes from simple cruising to rush-inducing acceleration.
The steering is precise with a six-speed automatic transmission. The 3.5-liter V-6 engine delivers that extra power with better MPG. You get the hustle and power of a large
sedan while using the fuel efficiency of a small car.
Being able to have a large sedan with the hybrid fuel efficiency is a huge feature that makes the Avalon so special. Fuel economy is about 21 mpg in the city and 30 mpg on the highway.
It is a smooth ride, especially around corners. The confidence of this vehicle is in both the steering and braking, and you'll enjoy the silence as the Avalon muffles the sound of wind and tire thrum.
Sound absorption materials are placed stylishly throughout the vehicle and the rearview mirrors reduce both drag and wind noise. This makes for a library-like silence while driving.
If you look beneath the chassis you'll find diffuse panels to help maintain control and reduce turbulence. This is for both comfortable riding and to help Toyota Avalon receive efficiency scores. It is even certified as an Ultra Low Emission Vehicle.
Along with the smooth performance, Toyota makes sure that you're equipped with a wealth of safety features and advanced technology to help keep each drive safe and enjoyable.
Advanced Technology and Safety Features
The entire suite of the Toyota Safety Sense-P is a standard feature that comes with all the trims. This is set to help alert of potential hazards on the road and keep everyone in the vehicle safe. This package includes advanced safety systems such as the Pre-Collision System and Dynamic Radar Cruise Control. Additional safety technologies include Blind Spot Monitor, Rear Cross Traffic Alert and Back Guide Monitor.
There are also quite a few passive safety features that are designed to mitigate effects from a collision. These include an Advanced Airbag System, Whiplash Injury-Lessening Seats, and front and rear energy absorbing crumple zones.
The newer models include a Multi-Information display that provides useful data for a driver's ride such as how much fuel is left, your current mpg rating, and turn-by-turn directions. The vehicle also comes with features such as Apple Carplay and available power rear sunshade to prevent the sun from affecting those in the rear seat.
The best vehicles are the ones that give everyone in the vehicle peace of mind. And this sure fits that status.
Reliability
The Avalon has been known for reliability ratings that exceed far beyond its class.
At a dealership like Royal Moore Toyota near Portland OR you'll be able to try out the vehicle with a worry-free experience and also have an excellent service center to return to for your needs.
The Avalon comes with Toyota's standard and reliable warranties. It is a three year/36,000 mile basic warranty and a five-year/60,000 mile powertrain warranty.
The new look, new interior, new engine lineup and new safety and technology specs are reasons to place the Toyota Avalon be in your radar.
Take the vehicle out on a test drive at Royal Moore Toyota. You'll want to feel the blend of prestige and comfort for yourself. You can also go through our
website
to see which trims and financing options are available so the Toyota Avalon can be yours today.