One thing a person learns as a Toyota dealer in Oregon is that while every car buyer has his and her own unique needs, buying a car is the same big investment for everyone.
Budget is always a factor, of course as you don't want to pay for space and features you won't use, but you also don't want the headache of buying something with a lower sticker price that doesn't meet your needs. Buying a "cheaper" vehicle is often much more costly in the long term, particularly when you factor in the higher maintenance costs of a vehicle that isn't durable.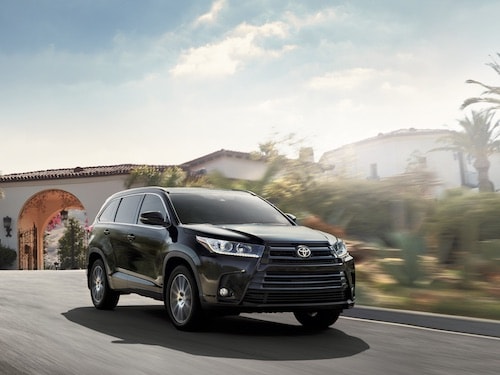 However, One vehicle that time has shown to be a great fit for a lot of car buyers is the midsize sports utility vehicle.
The midsize SUV has ample seating and storage while still being more fuel efficient and easier to maneuver. Most seat between six and eight people in comfort and any have a third row that can be folded away or swapped out for individual captain's chairs.
Midsize SUVs usually have fairly powerful engines that can handle everyday tasks, as well as the many less frequent tasks, such transporting furniture or driving up to the mountains during an unexpected storm.
Generally, midsize SUVs are also a good choice for buyers who aren't quite sure what the next few years of their lives are going to throw their way, but they want to be ready for whatever ends up happening during the journey.
That's where the Highlander comes in.
Why a Highlander?
Like the bed and porridge of Baby Bear, the Highlander is a happy medium between two ends of a spectrum. It has an elegant interior that offers USB ports, a third row, and a host of other features discussed below.
At the same time, it doesn't feel bloated.
It has a reliable engine with the power you want to get you where you need to go without sacrificing fuel economy. All models also have Ultra Low Emission Vehicle II (ULEV II), which is higher than the minimum required by California state law (the most stringent emissions law in the U.S.).
Additionally, there are a variety of interior and exterior options, such as different trims and exterior colors, that let you decide how you want to customize your and express your style through your next ride.
In
U.S. News & World Report's car review
, "The 2018 Toyota Highlander ranked #2 in Midsize SUVs" with an overall score of 8.7 out of a possible 10. The safety features in particular stood out, ranking in at 9.3 out of a 10.
Different Models
The Highlander comes in several different trims to meet a variety of consumer wants and needs. Your Toyota dealer in Oregon has more information on these possibilities. We'll focus on the LE, SE, and Limited models.
The LE offers an affordable option with all the features standard in an Explorer, including an entertainment center, forward collision warning, adaptive cruise control, forward collision warning, automatic emergency braking and high beams, and choice of either a 4 cylinder or V6 engine with FWD.
The SE has a V6 FWD and 8-speed automatic. The Limited has rear parking assist sonar and offers additional luxury features, such as a leather-trimmed second row captain's chairs with folding side table with two cup holders.
Who's the Primary Driver?
The Highlander is a good middle-of-the-road option for a lot of different buyers. There are several features that stand out for families and anyone traveling with children, including the LATCH (Lower Anchors and Tethers for Children) system, which includes lower anchors and tethers on outboard second row seats and tether anchor on middle of second and third-row seats.
This means that installing child safety seats correctly and securely has never been easier.
There is an on-board entertainment system perfect for keeping the peace during long drives, and a navigation system to help get you there as directly as possible. The Highlander has a lot of available cargo room so that when it comes to shopping and transporting items, nothing has to be left behind.
So whether you're a parents riding with kids in the back or a weekend warrior who wants to pack in their friends and gear, this ride will work for you.
Features & Updates
All models have power-assisted ventilated 12.9 inch front disc brakes and Star Safety System features, as well as Hill Start Assist Control (HAC), Tire Pressure Monitor System (TPMS), and a many other safety features.
Each can seat up to 8 people.
The Toyota Safety Sense package has been added to the Explorer line as a standard feature. The V6 option has increased horsepower, from 270 to 295. Your
Toyota dealer in Oregon
can help you explore these features and decide what works best for what you and your personal preferences.
Optional Features
Optional features include a host of items, which include: tri-zone automatic climate control, satellite radio, HD Radio, smartphone linked navigation, an 8-inch touch screen, moonroof, keyless entry, push button start, a 120 volt outlet, Driver Easy Speak, integrated navigation, the Entune app suite, a 12-speaker JBL audio system, front parking sensors, rear parking sensors, blind spot monitoring, rear cross traffic alert, and a surround view camera.
This immense flexibility ensures that when buying a Highlander, you have the option to add a lot of bells and whistles to maximize your driving experience—and the option not to pay for them if you don't want something.
The standard features still offer a lot of electronic and entertainment options, such as Bluetooth, USB ports for charging electronics, voice recognition, and digital safety and assistance features.
Could the Toyota Highlander Be Right for You?
Overall, the Highlander is a good choice for buyers looking to travel in comfort, safety, and style while maintaining cabin and cargo room, maneuverability, fuel economy, and practicality. The Toyota Highlander is a midsize SUV that for many buyers is the Baby Bear option—with a lot of extras.