The time has come for you to find a new vehicle. While you think about all you need in a car, you should start by making a list. You'll want a vehicle that is safe, efficient, and fits in your budget. Also, it would be ideal if the car is good on gas.
Even
Kelley Blue Book was inspired
enough by the 2018 Toyota Camry to say, "If you want a midsize sedan with a sterling reputation for reliability, satisfaction and ease of use, the Camry continues to fit the bill," giving it a 9.4 overall rating. And it's clear to see why.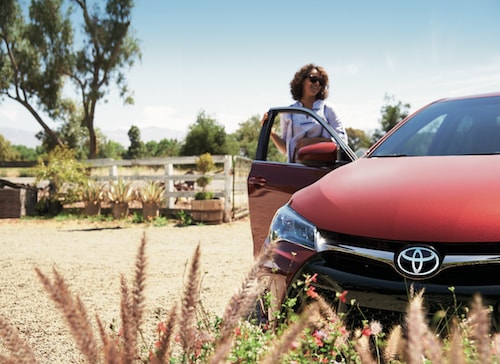 One thing's for sure—The 2018 Toyota Camry is a great choice when you're considering all the cars for sale that fall in its class. And, the 2018 edition looks even nicer, while coming with the lovably low price tag that we've come to know and appreciate from Toyota. It certainly stacks up against the rest in all of the important features, but let's take a closer look at that now.
First of all, there's a reason that the Toyota Camry has been a top-selling car for the past 15 years, and that's because it's dependable, efficient, and offers more than other cars in its class. It'd be easy for Toyota to be satisfied with where their Camrys are at, and yet they continue to improve on their best-seller. Their engineers are hard at work adding new features to make their cars better every year, and the 2018 Camry is certainly no exception.
Coming straight from the Georgetown, Kentucky plant, the new Camry has moved away from the look of your typical four-door sedan design. The ever-popular SE and XSE models now feature mesh grilles and large air scoops on each side of the bumper line. This lends itself to a more modern look, and it's more "catamaran inspired."
On the other hand, the L, LE, and XLE models feature horizontal trim for a more refined and sophisticated appearance.
Car buffs have a lot to be excited for when it comes to the brand new Camry. Of all their
cars for sale
, this is a go-to favorite. This year, the L, LE, XLE, SE, and XSE Camrys feature a brand new engine—a 2.5-liter 4-cylinder twin-cam, 16-valve aluminum alloy. This allows the car to function at a high-performance and it's especially efficient. It also has a little giddy up if you want to push the limits on the open road.
With the Toyota Camry L, LE, XLE, and SE trims, this engine produces 203 hp and 184-pound-feet of torque. When you take a closer look at the XSE model, it gets a moderate boost to 2016 hp and 186 lb-ft with the same engine If you're interested in the XLE V6 and XSE V6, they have a new 3.5-liter twin-cam, 24-valve six-cylinder that makes 301 hp and 267 lb-ft.
Moving inside, the seats in the car are contoured for your comfort, which of course is key. On long rides, especially cross-country, comfort is essential. Toyota ensures that for you. There's also plenty of foot space where you need it so you can stretch out and enjoy the smooth ride.
Also, a facet that often gets overlooked, the center console has plenty of storage, and there's even a convenient location to store your phone. That center console comes in handy if you need to get your hands on something in the wink of an eye. Rather than digging through your ruffage in the back, the Camry allows you to keep your essentials close by.
Despite the fact that Toyota's Camry continues to be the highest-sold car in its class, it's still the most affordable. You'd think that manufacturers might be tempted to up the price due to its popularity, but that's not the case. It's quite the opposite, in fact, priced at $27,690. Comparable cars that cost more are the Mazda6 ($32,490), the Ford Mandeo ($33,190), the Hyundai Sonata ($30,990) and the Kia Optima ($34,490). Toyota undercuts them all in price.
AutoWeek had rave reviews for the 2018 Toyota Camry when they took it for a test spin.
"
Autoweek readers
who are buying Camrys will want the SE or the XSE," they said. "They're more fun than you ever thought you'd have in a Camry."
Did we mention that they're reliable? Autotrader looked into why Honda Accords and Toyota Camrys are so popular, and the common word that came to mind was—in fact—reliable. This goes back to the 1980s and 1990s when other makes and models were breaking down and not lasting nearly as long as they should. Toyota's Camry long has an outstanding record of dependability, and that's a major decision factor when your making a large investment such as buying or leasing a new car.
When all is taken into account, the 2018 Toyota Camry is a car you should seriously consider when it comes time to test drive cars for sale. Not only is it fun to drive, but it's a safe and efficient vehicle that will get you from point a to point b with ease.
There's a reason why this car has been the number one sold member of its class for 15 years running, and if you make the right decision and purchase one, you'll experience all of the benefits firsthand.