Now that we've unofficially hit the start of summer, how are you going to get to your next outdoor adventure? You've been thinking about a new ride for a while, but now is the time. So, what features are most important to look for.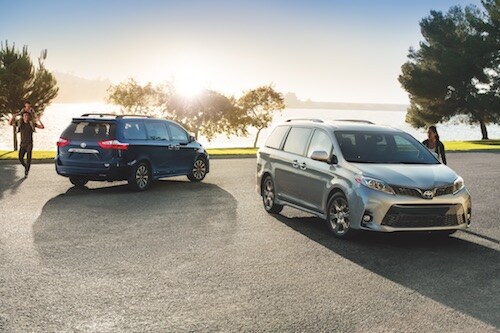 First, you might have kids. And, you'll definitely have bags—groceries, backpacks, luggage. You'll also need space if you have a furry friend in your life. And you don't forget to bring the new wakeboard you've rented for the weekend.
Your spouse wants to make sure there is plenty of legroom and you'll definitely need a top-of-the-line navigation system for all that off-roading. And it would be nice to have a built-in entertainment center for those inpatient backseat passengers—young and old.
It sounds like you might be in the market for a minivan. But, don't worry. Today's minivans have had significant improvements from the soccer-mom van of your childhood. In fact, if you're looking for a sleek, modern ride that fits all the criteria above, the 2018 Toyota Sienna van might just be the perfect van for you.
At Royal Moore Toyota, we're confident that you'll love the
new 2018 Toyota Sienna
. With its sleek, updated design and use of smart technology, our latest minivan will guarantee a smooth and safe ride for you and your loved ones.
The latest in the line of our industry recognized minivans, the Toyota Sienna is fun to drive. Whether you're taking a cruise to your next vacation locale or scooting to the kids' here and there, you'll see that the new model will catch more than a few complementary glances.
Ready to start your next Toyota adventure? Take a look at just a few reasons why the Toyota Sienna minivan might be the best choice for you.
New Design
Gone are the days of the big, bulky minivan of yesteryear. Our newly designed minivan is meant for the driver who wants a sleek and stylish ride. With luxury materials used for both interior and exterior panels, our latest model might be the best looking version yet. The new 2018 Sienna has a redesigned front-end with sharper lines on the grille and 19-inch alloy wheels.
Our spacious dashboards are covered in ultra-lush, soft-touch materials, and come with dual sunroofs that everyone is happy with their amount of light exposure.
Every Sienna also comes equipped with an almost cavernous capacity for cargo space. Reaching across 39.1 feet of cubic space, with options for both the third and the second row to be folded over to provide even more volume, there is ample room to hold sporting equipment, grocery bags, luggage, or any of your family's belongings.
We're proud to say that all of our vehicles drive quietly—no noisy motors here. And all Toyota Sienna vans come with the Entune 3.0 App Suite, our dashboard software that comes preloaded with Yelp, Pandora, and real-time traffic gps.
Another unique feature is the Driver Easy Speak or the front panel built-in microphone that picks up your voice and transmits it to the passengers in the back. No more yelling for everyone to put on their seatbelts.
Every Sienna comes equipped with wifi, powered by Verizon, that can support up to five devices. And what would that much wifi capacity be without a plethora of outlets? Each Sienna comes with five USB ports across all three rows of seats. So no more fighting for the one remaining outlet.
New Safety Features
There's a reason why we call it, "The One and Only Swagger Wagon." But aside from the Sienna's outstanding new looks, our recently upgraded safety features are another reason to feel good. Every Toyota Sienna van comes with eight interior airbags, blind spot monitors in the side view mirrors, and our Star Safety System.
Additionally, this van also comes standard with our inclusive driver-assisted technology, to provide you with every tool possible to ensure a safe ride. On every Toyota Sienna van we include our Toyota Safety Sense P (TSS - P) bundle at no extra cost. The package includes Standard Lane Departure Alert with Steering Assist, which is able to detect lane departures on roads with visible line markings. The alert sounds when your vehicle is going over 32 mph or faster and then you can safety drive your vehicle back into the center of the lane.
There is also Standard Dynamic Radar Control, which allows you drive at a preset speed. Our DRCC uses front-grille-mounted radar to detect other vehicles and the distance from your car. And each new Sienna includes our Pre-Collision System with Pedestrian Detection. Meaning that if your Sienna's sensor detects a potential collision, it will cue visual and auditory alerts to the driver to prevent impact.
Better Performance
Our newest Sienna model, not only crosses the traditional minivan with the looks and technology of a sports vehicle, it also handles like one too. We still wanted to offer our customers the best safety features available, but the 2018 Sienna is built for fun. Our signature All-Wheel Drive (AWD) system comes included, so that no matter what condition your drive takes place in, you'll always be in safe hands. Our powerful new minivan has plenty of horsepower, coming in at 296 hp per vehicle and has the handling of a sportier model.
Sienna vs. the Competition
We are proud to be dealers of the brand new 2018 Toyota Sienna and feel confident that compared to similar models, the competition
falls flat
. Our Sienna ranks higher than both Honda and Dodge in horsepower and torque, not to mention that all Siennas come with Toyota Care.
If you're looking for a top of the line minivan with the stylish, clean lines and the driving capability of a luxury sports vehicle, the Toyota Sienna is by far the best choice for you and your loved ones.
Ready for the ride of your life? Come on down to
Royal Moore Toyota
and take a test drive of the latest Toyota Siennas. We offer a full selection of used and pre-owned vehicles and can guarantee that your purchasing experience is our top priority. We strive to have complete customer satisfaction with each Toyota purchase and we have full confidence that you will feel happy with your Toyota vehicle.
Why not give our location a call and plan your test-drive today? There is no better way to judge if the new Toyota Sienna is the right fit for your family than by getting behind the wheel of one and taking it for a spin. We know you're going to love it!