If you're in the market for a new subcompact vehicle, you'll find no shortage of options. There are hundreds of makes and models out there, and they're not all created equal.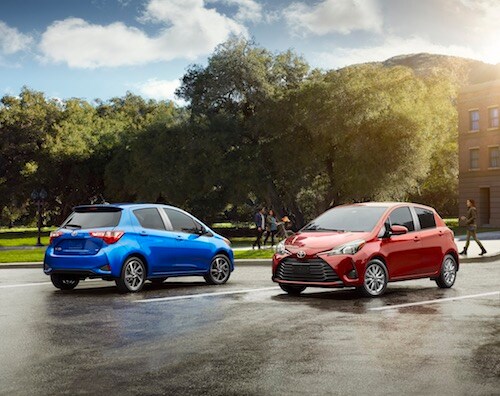 Perhaps, in your search, you've narrowed it down to a Toyota, having been swayed by that brand's reputation for safety, reliability, and value. If, like many savvy car shoppers across the U.S., you've decided on a Yaris hatchback, you'll find that you still have options to consider.
Both cars are, of course, excellent options, but you want to find the one that's right for you. Here is some information to help you decide between a 2018 Yaris or the 2018 Yaris iA.
Why Choose a Subcompact?
Before you narrow your choices down to the Yaris hatchback or the Yaris iA, you need to make sure that a subcompact vehicle is right for you. The great benefit to subcompact cars is their affordability.
Larger cars do cost a lot more, and while sometimes you'll need to opt for those types of vehicles, in many cases a smaller vehicle will serve your needs just fine.
Small cars, in addition to being less expensive, are also more convenient in a lot of ways. They are easier to store and park, and can get you to work and back with no trouble. If you're looking to transport a large family on camping trips, you'll need a different type of car. However, if you're looking for a small car that's affordable, safe and reliable, a Toyota subcompact car is an excellent choice.
Two of the best and most affordable choices for shoppers are the Toyota Yaris and the Toyota Yaris iA.
What's the Difference?
Of course, both cars fill a similar niche, and resemble one another in certain ways, both cosmetically and in overall build. However, there are a number of key differences between the two that may affect the vehicle you ultimately choose to buy.
In fact, despite the names, the cars are not even constructed by the same company. The Yaris hatchback is built and distributed by Toyota and sports all the classic features Toyota fans have come to love. Conversely, the Yaris iA is actually built by Mazda and distributed by Toyota under license. Comparing the two cars, therefore, is essentially comparing two cars from completely different, albeit equally stalwart, reliable, and affordable, companies.
So, let's take a more in-depth look at each vehicle:
The 2018 Toyota Yaris
The 2018 Toyota Yaris, being constructed by Toyota, boasts everything you've come to love about Toyota cars over the past three decades. The Yaris hatchback is safe, fuel-efficient, and affordable. As a Toyota vehicle, it also benefits from that manufacturer's reputation for reliability. Provided you care for it properly, you'll get many years of comfortable driving out of your 2018 Toyota Yaris.
The latest model also makes use of the latest technology to guarantee a safe and fun driving experience. The MSRP of the Yaris hatchback starts at $15,635. It features 106 horsepower at 6000 rpm and 103 lb-ft of torque at 4200 rpm. The Yaris hatchback also features a four speed automatic transmission.
Optional features include LED headlight accents, fog lights, and a backup camera. The 2018 model has been upgraded from previous years; it now features a tilt steering wheel, touchscreen, Bluetooth, CD player, USB port, six speakers and optional other features such as Sirius XM satellite radio, voice recognition, navigation, and hands-free phone calling.
There have been a few changes made to the exterior of the vehicle as compared to previous models, and the interior hasn't been altered much from previous designs. The vehicle still sports a leather-trimmed steering wheel and shift knob to make for a pleasant ride.
The 2018 Toyota Yaris iA
Despite the name, the Yaris iA is a completely different car from the Yaris hatchback. The car has actually been manufactured by Mazda and, while it has a few features in common with the Toyota Yaris, and fills the same niche in the subcompact car market, it can be a bit difficult to compare the two.
The MSRP for the Yaris iA is a little more expensive than the Yaris hatchback; it starts at $16,846. This car features a 1.5-liter, four-cylinder engine that is capable of 106 horsepower. Unlike the Yaris hatchback, the Yaris iA is sold with either a six-speed manual or a six-speed automatic transmission.
Just as with the Toyota Yaris, the Yaris iA features the latest technology to ensure a smooth and safe ride. Thanks in no small part to these hi-tech features, the Yaris iA has received a five-star safety rating—the highest possible—from the NHTSA.
You'll also enjoy access to a 7.0-inch touchscreen infotainment system, cruise control, power windows, power mirrors, two USB ports, Bluetooth, and low-speed automated front emergency braking. Optional features include navigation, an armrest, and even a holder for your tablet.
So, Which Should I Choose?
Ultimately, the car you decide to go with depends largely on your personal preferences. If cost is your primary concern, and you're looking for an inexpensive, but still safe and reliable car, the Yaris hatchback is a great choice.
If you're willing to spend a little extra on the Yaris iA, you'll likely find that the improved fuel efficiency makes up for the added cost. You'll get a little bit more room in the trunk of the Yaris iA as well. The ability to buy a manual transmission car is another great point in favor of the Yaris iA.
Ultimately, the car you decide on will depend on your personal needs, budget, and what works best for you.
If you're considering buying either one of these vehicles, you'll want to head down to your
local Toyota dealer
and take a few test drives. Get behind the wheel of both cars to see which one you prefer; you can also get plenty of great advice and help from your car dealer. Good luck with your search!