When shopping for a new vehicle, you will have to consider what is the best fit for your lifestyle, both now and in the future. You'll have to ask yourself some questions to determine what will best accommodate your needs and priorities.
Do you have a growing family, or plan to in the near future? Are you frequently carpooling? Then you'll want a car that seats lots of people.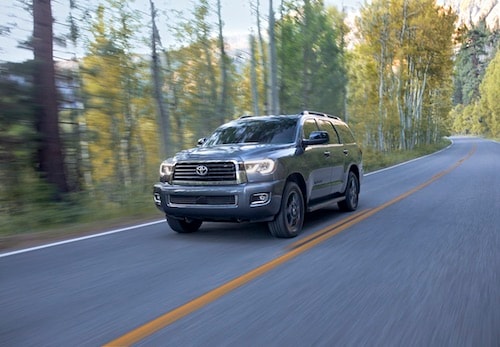 Are you going to need a lot of storage space? Do you expect to do some towing? Do you expect to be driving in some harsh road conditions? Do you love the great visibility that a higher car offers you? If any or all of these factors apply, you'll probably be looking at lots of large SUVs.
If you want a large SUV with plenty of room and a comfortable drive, the Toyota Sequoia may just be the perfect car for you. Read on to see what sets it apart from similar vehicles.
Rankings and Ratings
U.S. News & World Report ranked the 2018 Toyota Sequoia #3 in Large SUVs, and also named it a finalist for 2018 Best Large SUV for families. Some of the reasons it was a finalist include the roomy cabin, the suite of standard safety technology, and the positive reviews from automotive critics. It has a current overall rating of 8.2 out of 10.
Compared to many similar vehicles, it has a longer standard features list and offers more interior space than the Nissan Armada and the GMC Yukon. And it also comes at a great price, making it a smart value.
The Toyota Sequoia also has a well-earned reputation as a very reliable vehicle, with an excellent, practically perfect, reliability rating. And because it's known for its durability and longevity, it's a great long-term investment.
You'll want to be sure you secure a great warranty to go along with that. One option is a Lifetime Powertrain Warranty, which will cover your vehicle for however long you own it.
Royal Moore Toyota
is the only dealership in the Portland area where every new Toyota comes with a Lifetime Powertrain Warranty, as well as 10 Years Roadside Assistance. You can also have peace of mind knowing that whenever you do turn the vehicle in down the line, it has a great resale value as well.
It's Incredibly Spacious
The
2018 Toyota Sequoia
has above-average cargo room. Overall, the spacious interior is part of what sets it apart and makes it a great car for families. Especially when it comes to seating, as the 3-row vehicle seats seven to eight passengers.
And passengers can sit comfortably and have plenty of room. This makes the Sequoia perfect for road trips, moving, and everyday car rides. If you have a large family, you surely know how much extra room comes in handy every day!
The third row also folds down for extra space in the back, and the vehicle comes with standard roof racks for even more storage along with rear, passenger, and drive door bins.
Have you ever felt like you had to squeeze to get into the third row in an SUV because the doors weren't wide enough? Well, the Toyota Sequoia has large enough rear doors that passengers will be able to enter the third row comfortably. You won't have to worry about anyone feeling cramped anymore!
Great to Drive
As beneficial as all that extra room is, if you're not used to driving large SUVs, the large size may concern you. So how does it feel when you actually drive the Toyota Sequoia?
Thankfully, the SUV offers good handling and a comfortable ride. Its long wheelbase helps provide stability. It is easy to control and has precise steering. There is a standard Tire Pressure Monitor System, which alerts drivers when tires get to be too underinflated. The multi-mode 4-wheel drive system is beneficial for whenever you are looking to travel off-road.
And, you know that while living in Portland you're bound to come across occasional harsh weather conditions. Luckily, SUVs and vehicles with the option of 4-wheel drive, like the Toyota Sequoia, are perfectly equipped to deal with whatever you're facing.
One of the most notable features of the Toyota Sequoia is the engine. The standard 5.7 liter V8 engine brings plenty of power, with 381 horsepower and 401 lb-ft of torque. It has a 6-speed automatic transmission with a low first gear, as well as two overdrive gears that help keep the engine quiet and enhance fuel economy. Both the engine and the transmission make sure you get a great towing capability, up to 7,400 pounds.
If you've ever wanted to attach a travel trailer and go on a family road trip, the Sequoia is the perfect vehicle for that task and many more.
Safety Features
New for the 2018 model, the Toyota Sequoia now comes with standard driver's assistance features, which are part of Toyota's Safety Sense-P bundle. These include pre-collision warning with pedestrian detection and automatic braking, adaptive cruise control, and lane departure alert with sway warning. Having these features will help you feel more at ease and in control.
The standard blind-spot monitor and rear-cross traffic alert will also help prevent collisions. And, you can count on the visibility provided by the high seats and large windows, as well as the low and high beam headlights, Daytime Running Lights, and fog lights. Other safety features include braking assist and traction control.
If you want to see more in person, you can give a Toyota Portland dealership—like Royal Moore Toyota—a call to schedule a test drive. While you are at the dealership, don't hesitate to ask the knowledgeable staff about any questions you have. You can also find plenty of helpful information on the website. This Toyota dealership near Portland OR has been around for 50 years, and won the 2017 Toyota Dealer of the Year award.
As an extra convenience, if you need maintenance after you buy, visit the Royal Moore Toyota service department.