In this day and age, who has time for unreliable cars? Or especially needing to replace vital parts after just a few years? No one. An exciting adventure through the woods or near a spectacular river shouldn't interrupt the long commute back to the office due to excessive wear. The Toyota RAV4 survives everything from exciting getaways to mundane trips to the grocery store.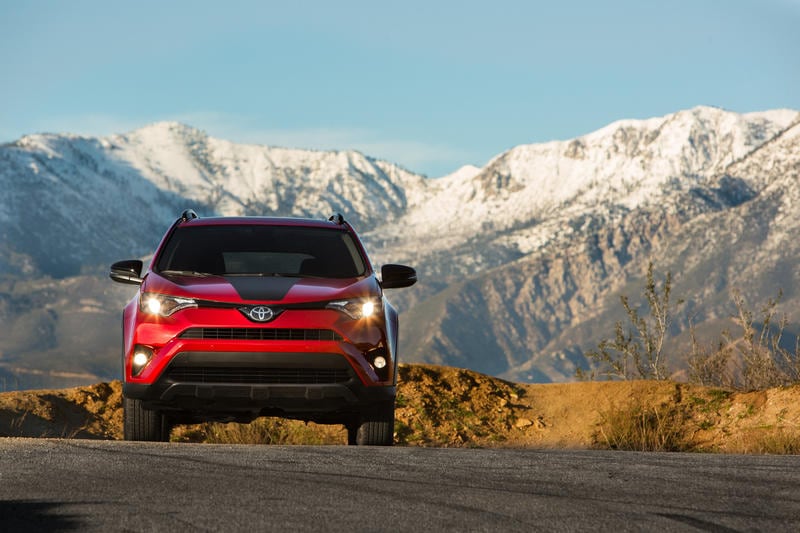 If you want a car dependable enough to easily last at least a decade—from the moment you leave the Royal Moore Toyota dealership to endless adventures you've yet to embark—the Toyota RAV4 is the car for you.
This SUV family has a long tradition of being affordable, enduring, and reliable. The Toyota RAV4, like the rest of cars in its class, were made with the intention of being an all-purpose vehicle that impressively stands the test of time.
Dating back to the invention of the Sports Utility Vehicle in the 1940s, this class of vehicle has been an absolute necessity for anyone who wants to travel on road or off-road, or stay within the city or travel long distances. Despite its multipurpose nature, the Toyota RAV4 has a longevity to boast about. Here is what makes it so robust:
No Cutting Corners in Engine Care
One of the reasons why the
Toyota RAV4 lasts so long
is because of its engine. The Toyota RAV4's engine is dependable regardless of its automatic or manual transition. One of the reasons for its success is that Toyota offers
free oil and oil filter changes
, which helps maintain a durable car and adds to its reliability. Additionally, the company offers a 19-point inspection at its dealerships, but unfortunately, it does not apply to brake pads and rotors. Even though the vehicle's engine output is relatively low, it produces less stress on other components, which increases the engine's longevity.
Japanese regulations are also attributable to the quality of the RAV4 engine, as higher tolerances are expected. There are no cutting corners in creation of parts, heightening value and durability. It is not uncommon for the RAV4 and other Toyota vehicles to last at least 250,000 miles.
People also keep this car due to its maintenance. It is no industry secret that Toyota products are easy to repair and can be done so at an affordable price. The availability and ubiquity of parts also increases the RAV4's longevity and adds to its reliability.
Smart Design Means Fuel Efficiency
When Toyota designed the RAV4, they removed the V6 in favor of just one engine, a 2.5-liter, four-cylinder engine with 176 horsepower and 172 lb-ft of torque. This makes it convenient for towing up to 1,500 pounds and it also makes the vehicle extremely fuel efficient.
Pair this engine with the typical six speed automatic transition and any driver will experience a more natural and comfortable drive. When operating the vehicle, the driver can switch between its eco mode and sports mode for better acceleration and the car has fuel economy rating of 23 mpg in the city and 29 mpg on the highway is about average for a compact SUV.
In terms of its handling and breaking, the RAV4 comes with the standard all-wheel drive, which is available in every trim, and it is known for being an incredibly smooth ride. You'll find yourself satisfied as soon as you test drive the vehicle at the Royal Moore Toyota near Portland car dealership.
It's So Multipurpose No One Would Actually Want to Get Rid of it
The RAV4 has roughly 38 cubic feet of cargo rom in the backseat, and if you were to include the second row, a standard 60/40 split seat back; that is approximately seventy cubic feet of space. So for sports outings, it holds enough space for people to have a cookout in the back. It can store numerous pieces of luggage, bags of groceries, or even large sets of sports equipment. To top it all off, it can store a spare tire and the necessary equipment to change it.
The newest generation of the RAV4 can comfortably seat up to five people on cloth upholstery, and it has a six-way manually adjustable driver's seat. For parents, it also has three tether anchors and two lower seat anchors to secure their child safely.
On top of that, it includes the Lower Anchors and Tethers for Children (LATCH) hardware, which was software developed to fasten one's children easily: the LATCH system consists of built-in straps and hooks on the safety seat and anchor hardware in the vehicle, and it replaces seat belts with an anchoring and lowering system to protect children. For the RAV4 specifically, it has an easy-to-find LATCH system so caregivers can immediately locate it and buckle up their children. Speaking of which—
It's Still on the Road Because It Keeps You Safe
Drivers are still operating these cars because the vehicle has you covered in conditions likely to wreck it. The RAV4 incorporates Toyota's STAR safety system, which is designed to reduce collisions and to stabilize it when traversing through hazardous road conditions like slippery or uneven surfaces. It is always active, which ensures that the driver will have enough time to react to any sudden situation.
Other common safety features for the RAV4 are blind spot monitoring, lane departure warning, radar-guided adaptive cruise control, collision warning with pedestrian detection, and emergency braking distribution to name a few. All these features contribute to its famously long lifespan.
A protected vehicle is a reliable vehicle. It's time to live your busy life as you leave the Royal Moore Toyota near Portland dealership, without worrying about your new vehicle's future.
The Toyota RAV4 is the perfect vehicle for anyone who wants to go on an adventure, whether at home or anywhere in the country. The vehicle provides a considerable amount of storage space, which renders it perfect for family outings or for mundane tasks like picking up printer paper for the office (it can haul loads of that, by the way, or anyone who wants to save themselves the trips). Even more importantly, its engineers have considered the safety of children: the built-in LATCH system protects the most precious members of your family. And, with all of its boastful safety features, the driver and family alike truly are in the best of cars.