A good dealership is important and can make all the difference in whether someone purchases a vehicle, whether new or used. With so many options available on the marketplace for consumers to choose from, it is important to put customer service at the front of the list. Many people can sell cars, but doing it right and truly wanting to keep the needs of the customer first is how we at Royal Moore Toyota earn a dealer of the year designation.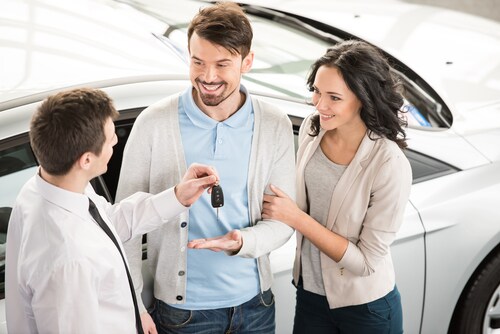 At Royal Moore Toyota, we set out to make every experience as good as it can possibly be. Excellent customer service and serving the needs of the community is important to us, a Toyota dealership in Hillsboro, and that is one of the many important reasons we received such an honorable distinction in 2017.
Our dealership has quite an extensive inventory selection of Toyota cars, trucks, and SUVs, including the Toyota Tacoma, 4Runner, Corolla, Camry, Sienna, and Prius. Having an inventory selection this impressive shows our commitment to getting our neighbors in the vehicles of their choice.
Royal Moore Toyota also works with quite a few lending sources to make sure our customers get the financial packages that are complete and comprehensive. The areas they service typically include Beaverton, Hillsboro, Portland, and the surrounding Portland Metro area.
Below are five reasons that make our Royal Moore Toyota team a 2017 Dealer of the Year.
1. Online-Customer Experience
Whether you are looking to buy or lease a vehicle, Royal Moore Toyota has a vehicle for your needs. The Toyota dealership in Hillsboro offers a wide variety of vehicles from new and certified pre-owned inventory, all of which you can conveniently browse online.
By seeing the inventory online, you have an opportunity to make some pre-purchasing decisions about the right vehicle for you and your family before you step in and talk to one of the friendly sales staff here.
And, our customer reviews on both the Royal Moore Toyota website and Facebook page are overwhelmingly positive. One family this month lauded their car-buying experience and shared the process at
our Toyota dealership in Hillsboro
was simple and fairly straightforward. They were able to test drive the vehicle of their choice right away, and the salesperson made sure they understood everything there was to know about the car before, during, and after. The paperwork was prepared quickly, was organized, and presented well. Then she was off!
2. In-Person Customer Experience
Shopping for a vehicle with us is easy, and we intentionally made it that way. If you have started your search online, eventually you will need to come in to the dealership so you can physically see the vehicle you have in mind to purchase and to get all the paperwork in order.
It's really about personal preference, whether you start shopping in the comfort of your home or come to us without knowing much more than you want to buy an SUV, for example. Either way, you'll get the assistance you need from one of our sales people who make it their mission to help you determine the best fit for your budget and needs.
Many online reviews shared that we immediately greeted them upon entering our showroom with smiles and handshakes. This is because we're genuinely glad you've stopped by for a visit and can't wait to see the smile on your face when you drive away in the Toyota you have your mind set on.
3. New Inventory
Inventory being online is such a convenience, especially when people are so busy today. This feature takes a good chunk of the stress out of buying a vehicle because you can review choices, prices, colors, all these details ahead of visiting our Toyota dealership Hillsboro. Being prepared and narrowing down your choices is a time saver, no doubt.
And, if you find a car online that you're genuinely interested in, you don't have to wait until a day you can stop by. Start the process right there by filling out a form and someone from our customer service team will get back to you shortly to answer any questions you might have.
4. Pre-Owned Vehicles
Some people prefer pre-owned vehicles, typically because it presents an opportunity to get newer models at lower prices than what new inventory would cost.
Having a pre-owned vehicle that is certified comes with valuable peace of mind, and Royal Moore Toyota offers this guarantee. There is an exhaustive list of pre-owned vehicles that can be reviewed online as well, and with the click of a button, availability can be determined by filling out a form so a customer representative can back to you. And if that model isn't available, the team will work hard to find the right vehicle for your budget.
5. Servicing Your Vehicle
Great customer service doesn't stop when you drive off our lot. We're here for all your needs. In fact, our service department is just as talented, striving for complete customer satisfaction, which is lauded in countless online reviews.
Whether you are just visiting for general maintenance repairs—oil changes, windshield wiper repairs, or headlight replacements—or something more complex—scratches, dents, broken windows—our team welcomes your visit.
Our dealership carries all of the manufacturer recommended parts, so the chances of having to wait weeks for a part is extremely rare. We also have a large inventory of OEM certified parts that they keep in stock at our Hillsboro, Oregon facility, so we are ready to help no matter your concern.
Royal Moore Toyota is a customer-focused dealership that makes helping you find the right vehicle a priority. We are open seven days a week to serve customers better and can't wait to see you—whether it's for your first visit or just your next oil change.