As we barrel into August there are only so many weeks left before school starts so you better take that family road trip you've been planning since January. If you don't hurry up you could miss your opportunity to explore the Grand Canyon, take a selfie at Mount Rushmore, or travel a bit more locally to the Seattle Space Needle or Crater Lake.
But first, you are going to need the perfect getaway car to get the job done.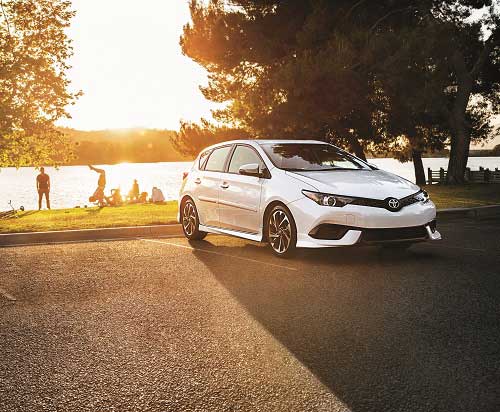 You'll need something that will make all members of your family happy (even your teenagers), but will also fit into a family-friendly budget. So why not travel in style with the comfort of an SUV, but the drive a best-selling sedan? Have it both ways with the Toyota Corolla iM, the latest Corolla hatchback, which mixes comfort with an all-new stylish exterior that is sure to make your summer road trip a blast.
At
Royal Moore Toyota
, we know the value of fun and the importance of safety, which is why we recommend that all of our customers come in to test drive the new 2018 Toyota Corolla iM hatchback. It is sure to be a game changer for young couples taking their first romantic getaway together or for planning your escape when the kids start to outnumber you.
Either way we've come up with four great reasons to come on over to your local Toyota Corolla dealership and take a look at an iM of your own today. Here's why we think this is the car of summer 2018.
Fun
We all need to have a little fun now and then, which is why this came in at the top of our list. With it's all new sportier exterior and handling, the 2018 Toyota Corolla is a blast to drive. The serious car enthusiast will take note that every 2018 iM has a MacPherson suspension strut and double wishbone rear suspension. Or in layman's terms, an iM is built to hug the curves of the road.
The ride is both rugged enough to handle the most mountainous terrain, but agile enough to make for a superior city drive. Not to mention the 17-inch alloy wheels with gloss-black finish. Talk about a looker!
We're sure that if you come in to your local Toyota Corolla dealership, the iM will make its mark on any car-buying customer.
Style
The 2018 Toyota Corolla iM is a serious head-turner. We're talking the perfect blend between a sports car and an SUV, but the hatchback feature is just one reason why the iM should be on every car-buyer's list. The interior comes in sophisticated Piano black and premium accent stitching. And if you'll be carrying the lot of you: mom, dad, kids, and pets, you'll probably appreciate the dual zone climate control, which will give you and your comrades complete control over your individual heating and cooling.
The sporty front bucket seats will make you feel like you're ready to speed down the track, even if you're just cruising along the interstate. And the all new sports mode button unleashes the iM's athletic side, using smart tech to adjust the throttle. This will cause the Corolla iM to drive like a livewire, making it easy to pinch around corners and give your riders a little bit of a thrill during the adventure.
No trip would be complete without gear. Which is why the Toyota Corolla iM's hatchback feature is the number one reason why families and adventure-seeking couples love this vehicle.
Just think, you've finally managed to figure out which bag to put your extra swan floatie in when you realize that there isn't enough room for everyone's luggage. Your problem is now solved as the cargo space in the back of the iM has 60/40 split rear seats. Which means you're sure to have space for a pair of golf-clubs….or 6.
Premium Interior
We have to face it; no car ride in 2018 is complete without enough technological features to keep everyone in the family happy. The display screen with audio navigation is perfect for first-time drivers who haven't quite memorized the directions to the family cabin yet and the integrated Bluetooth wireless speaker system means that no matter who's in the back seat, they can always drop the beat on your long car rides.
Every Corolla iM also comes with a standard backup camera and advanced voice recognition and steering wheel controls. Which means that you'll never have to take your eyes off the road again if you're tired of listening to the Moana soundtrack.
Toyota Safety Sense
Above all, Toyota Corolla dealerships pride themselves on selling cars that keep families safe and smiling. And the 2018 Corolla iM is no exception.
Each Corolla hatchback comes with eight standard airbags, built-in Star Safety system, and a tire pressure monitor system (or TPM), which alerts drivers when wheels become critically uninflated.
The latch safety system means that your little ones will no longer hurt themselves flipping seats up and down and the Corolla seats come with whiplash-injury-lessening as well, to ensure your all safe even if there is an accident.
All Toyota vehicles come with Toyota Care, which is our promise to our customers that the safety, dependability, and proper vehicle care is our guarantee to you; you are a part of the Toyota family.
At Royal Moore Toyota, we represent the fine Toyota customers of the Hillsboro area and we want to bring you into the family we have built right here in Oregon. We aim to have 100% customer satisfaction and look forward to working with you to get the car of your dreams.
Come in to Royal Moore Toyota today and let us show you why we love the Toyota Corolla Hatchback iM. Our passion for our products and knowledgeable staff are sure to prove to you why we are a proud Toyota Corolla dealership.
Take a test drive today. You'll be happy you did.