If you haven't purchased a vehicle in a while or maybe it's your first one, then you may be debating whether it's necessary to purchase your next ride at a dealership.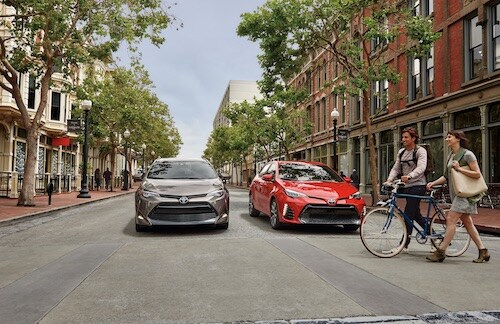 Today, we have more access to information at our fingertips than ever before, and finding a new car is no exception. You may be thinking, "Why don't I just hop on Craigslist or visit another website like Carmax or Carvana?"
And yes, you can easily go onto your phone and find a vehicle in minutes that may be right for you.
However, the dealership offers a lot of perks that are easy to forget, especially if you've never stopped by your local Toyota dealership near Beaverton. Let's discuss the benefits.
1. Start Shopping Online
You don't want to wait until you can get to the dealership next weekend to start shopping for your next ride, and we get that. That's why you don't have to put it off.
In fact, you can visit Royal Moore Toyota right now to see exactly what's on our lot. And, if you find something that jumps out, connect with us (no, you don't have to call) and schedule a free test drive for the day and time that works perfectly in your busy schedule.
2. Be the First Owner
When car buyers could not put down a lot of money for the vehicle they wanted, it used to preclude them from becoming the first person to drive off in that car. That's just not the case anymore.
When you visit your local Toyota near Portland OR you'll have numerous financing options provided and will be able to find one that works to match you with a vehicle you want, at a price that you'll love.
At
Royal Moore Toyota
, not only do we carry pre-owned vehicles if want something more budget friendly. We also offer leasing and loan options so that you can drive away in the vehicle that fits your lifestyle without breaking the bank. You won't find deals like this when you meet with someone you called up after seeing their ad in your Facebook newsfeed.
3. Great Post-Sale Protection
If you buy a lemon from a random person, it's 50-50 on whether or not you'll be able to renegotiate later, but the odds are not likely in your favor. Buying a vehicle outside of a dealership is a risk; is it one you can afford to take?
When you visit a Toyota dealership near Aloha, OR, not only are you guaranteed to drive away in a vehicle that is safe and built to last for years to come, you have somewhere to return to if something goes awry.
As consumers we'd like to hope we would not have any issues once we drive off the lot, but even unexpected things occasionally happen to new cars. If something arises, just visit the dealership and it'll be taken care of.
4. Knowledgeable Guidance
We know you did your homework before visiting our dealership and may even know exactly which vehicle you want and the price that will have you driving off with a smile.
However, there is just so much to know about these vehicles and we want you to feel one hundred percent confident that you are choosing the ride that will safely and comfortably get you from place to place for many years to come.
For this reason, we are ready to answer every question you throw at us and answer questions you didn't even think to ask yet.
Yes, we'll brag about our vehicles' safety ratings and the various awards this year's model have earned. We'll also outline every detail to your satisfaction so whether you're sitting in the driver's seat or the back seat, you will know which each button and knob to push whether you want to use the infotainment center or simply roll down the window.
5. Financing Options
We'd be remiss if we didn't share the value of numerous financing options. Yes, you still have the option to pay up front with cash, but that's just not the reality in most situations.
You work hard for your money so not only do you want a great bottom-line price, but you'll also want to choose the financing option that makes the most sense for you.
For some, the best option is our lease. This customer isn't expecting to hold on to their car for ten years. Instead, they want to know what they'll be paying each month and trade up in a few years as technology and safety continues to improve.
For others, the best option is some money down paired with an auto loan. Vehicles are an investment and Toyota is a top brand year after year. It offers some of the safest, most comfortable vehicles that continue to retain value. This makes purchasing a top choice for many.
And still, regardless of financing, many are looking to trade in an older vehicle. We have individual offers in this situation, too. Come by anytime and let's chat.
6. Peace of Mind
Purchasing a vehicle is an investment and we know this. Each part of the process takes consideration and important discussions between family members. We know this. Regardless of which vehicle you choose or the financing you choose, we want to you to know you drove away happy with your decision.
Not visiting a dealership is an option you have and we respect your choice no matter which direction you head, but no choice you make will provide you with the peace of mind you deserve like purchasing at a dealership.
In life, not much is guaranteed, but we can guarantee your satisfaction if you choose to partner with Royal Moore Toyota when it's time to purchase your next ride.