It can be a pretty difficult decision deciding between a Toyota RAV4 and Honda CR-V. Both are the top selling compact SUVs in the market with sensibility becoming more of a factor for consumers' interest in crossovers. As small sport utility vehicles, they are both relatively similar in factors such as base value and safety specs, but differ in many areas including safety, acceleration/power, interior/exterior, and more.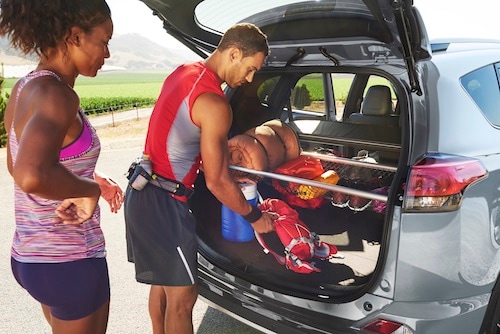 You can browse through an
online inventory
to compare the vehicles or visit a Toyota dealership Portland to try it out for yourself. Here are some factors to consider in determining which vehicle is right for you.
Acceleration and Power
The Honda CR-V has a nice punch with 184-horsepower 2.4-liter four-cylinder engine. Comparably, the Toyota RAV4 has a 176-horsepower 2.5-liter four-cylinder engine, which creates more of a lag in the throttle's response time. While the CR-V offers slightly more horsepower and is quite impressive in quickness for a mainstream crossover that isn't performance oriented, it is noticeably louder on the road.
Toyota RAV4 achieves about 23 mpg in the city and 30 mpg on the highway while the Honda CR-V gets 25 mpg in the city and 31 mpg on the highway.
The Toyota RAV4 also offers a hybrid powertrain option that consumers love. The Toyota dealership near Portland offers a powertrain warranty that includes a 20-year/200,000 mile limited non factory warranty (similar to the factory non-limited warranty).
Base-Model Pricing
The base-model pricing is similar. The Honda CR-V offers five trims between $26,900 - $38,090. The Toyota RAV4 comes in nine trims with the MSRP falling between $27,445 - $41,810. This decision between pricing comes down to what your priorities are with driving and what you're looking to spend. The RAV4 does cost more, but offers more at its base levels.
Safety and Reliability
Both are a tie for safety features, but you would have to upgrade to the EX or Touring Trim on the Honda CR-V to get the same technology features that comes with all models on the Toyota RAV4.
The RAV4 has a full suite of basic technology safety standards such as a forward collision warning and automatic emergency braking system. It also has the well-known Toyota Safety Sense P that helps prevent collision using cameras and lasers.
The Toyota RAV4 is reputable for it's longevity and being one of the most reliable vehicles, however the latest Honda CR-Vs have been quite comparable. The RAV4 is also known to be a less expensive vehicle to maintain.
Interior
The Honda CR-V back seats are slightly more comfortable. However, the RAV4 back seats are roomier, which is better for drivers who anticipate taller passengers or groups of kids to fit in the back. Most argue that the Honda CR-V offers a more rewarding driving environment with its modern interior design control stack and a digital speedometer readout that you immediately notice when taking the driver seat.
The base model of the Toyota RAV4 comes with more features than what the Honda CR-V offers including a rearview camera, six speaker sound system, USB port and remote keyless entry. The Honda CR-V has a relatively futuristic cockpit and the fact that you can take calls and turn on music without having to move your hands from the steering wheel are nice features to have.
However, the Toyota RAV4 has fewer and larger buttons on the wheel, which makes for an overall easier experience; it's especially nice during more strenuous drives.
Honda also has Apple Carplay, which is a current favorite amongst many drivers. The Honda CR-V does have nice navigation system, but it can feel quite overwhelmingly cluttered when it automatically shows local favorite eateries and shops. The Toyota RAV4 also has voice activated control and offers a CD player for those who still love to pop in a CD for music.
Cargo Space
The CR-V is pretty perfect for functionality and your cargo space needs. While both offer low load floors to help with arrangement and loading large items, the CR-V comes in ringing in only about two more cubic feet of cargo space than the RAV4.
The CR-V offers accessible folding rear seats that fold out of the way from the side dooors and from the cargo area levers. If you look throughout the cabin, you will also see small item storage in both crossovers, which would help in making sure smaller things don't get crushed or lost during your travels.
Exterior
Both vehicles have a towing capacity of 1,500 pounds making these compact SUVs perfect for hauling small trailers or campers. The Honda CR-V offers a sportier design with a more sleek feel while the RAV4 has a more simple look. While the Honda CR-V has an overall sharper look, the RAV4 differentiates itself with a grille located under the front fascia displaying the brand proudly.
Service
Stop by your local dealership to inquire about financing options or to even just get a first hand look on the manufacturer recommended parts that centers like
Royal Moore Toyota
carries. We offer the same quality of parts that your vehicle came with to optimize its performance for a longer lasting time. Being a family operated business, this Toyota dealership near Portland team is enthusiastic in serving its customer with the best customer service, covering everything from general maintenance to oil changes.
The RAV4 and CR-V dominate the crossover market. If you are looking for something with better fuel efficiency, a sportier exterior and more cargo space, Honda CR-V is the way to go. If you are looking for something to fit the kids in the back and is more revolved around reliability and safety, the Toyota RAV4 may be your best bet. While we favor the RAV4, you really can't go wrong when you choose one of these two.